Hotel & accommodation in Storklinten
Below you will find 1 hotels, apartments and chalets/houses in Storklinten. Hotels are sorted by lowest price.
If you know when you want to travel to Storklinten you can specify the dates here and search directly for available acccommodations.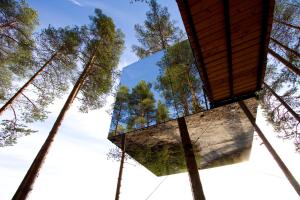 Distance to ski resort about 13.37 km
(prices from, per night)
LOCAL CURRENCY 6000 SEK
Detta enastående hotell erbjuder en unik vistelse bland träden i Harads skogar. Här förenas avancerad arkitektur och nyskapande design med bekvämligheter som te- och kaffekokare och gratis WiFi. Treehotels miljövänliga rum har stora sängar samt eleganta och moderna inredningsdetaljer oc...
Notice that prices could be converted from local currency and could vary with prices displayed on the hotel supplier web site. The accommodations above are sorted in price order.