Hotel & accommodation in Storklinten
Below you will find 1 hotels, apartments and chalets/houses in Storklinten. Hotels are sorted by lowest price.
If you know when you want to travel to Storklinten you can specify the dates here and search directly for available acccommodations.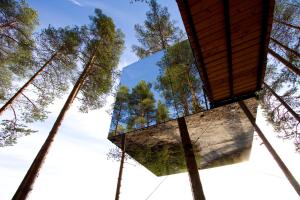 Distance to ski resort about 13.37 km
(prices from, per night)
LOCAL CURRENCY 6000 SEK
This special property offers a unique stay among the trees of Harads?s forests. It blends cutting-edge architecture and design with home comforts like tea/coffee makers and free WiFi. Treehotel?s eco-friendly rooms feature large beds as well as stylish, up-to-date décor and furniture. N...
Notice that prices could be converted from local currency and could vary with prices displayed on the hotel supplier web site. The accommodations above are sorted in price order.