Explore some of the best heli-ski destinations in the world
When it comes to skiing and snowboarding, there is no thrill quite like the feeling of steep pristine slopes, surrounded by untouched powder and breathtaking mountain scenery. For those seeking the ultimate winter adventure, heli-skiing offers an unparalleled experience that takes you far beyond the limits of what traditional ski resorts can offer. Here we list some of the best heli-skiing destinations in the world, some expected and some more unexpected.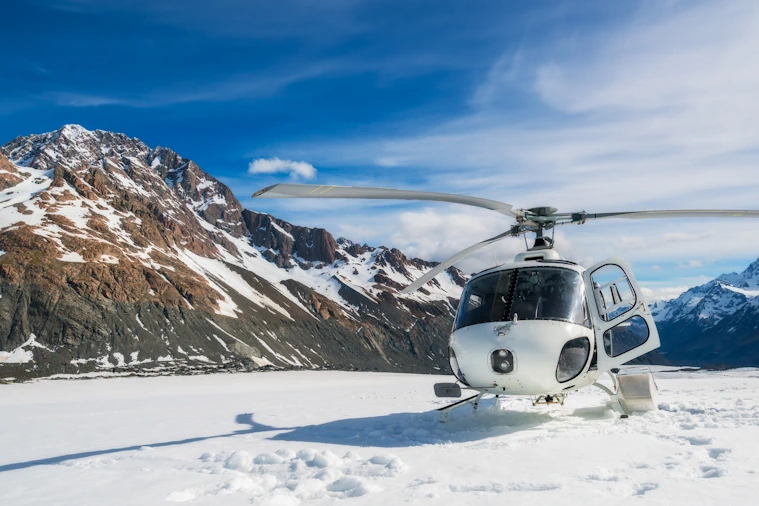 What is heli-skiing?
Heli-skiing is a form of skiing or snowboarding that takes place in the wilderness, where participants are transported to remote and untouched mountain terrain by helicopter. Unlike skiing within the confines of a ski resort, heli-skiing provides access to vast expanses of untracked snow, providing an adrenaline-pumping adventure for experienced skiers. The experience often involves thrilling descents down challenging slopes and is guided by experts who ensure safety while maximizing thrills.
1. Revelstoke, Canada
Nestled in the heart of British Columbia's Selkirk and Monashee Mountains,
Revelstoke
is a mecca for heli-skiing enthusiasts. With its abundant snowfall and vast terrain, it's no wonder this Canadian gem consistently ranks among the world's top heli-ski destinations. Skiers and freeriders can expect epic descents through forests and untouched terrain.
Revelstoke has many heli-skiing operators, and whether you're a seasoned ski pro or someone going on a heli-skiing trip for the first time, Revelstoke can offer a variety of opportunities to suit your skill level and preferences.
2. Valdez, Alaska, USA
Alaska's rugged landscape and legendary snowfall make it a dream destination for heli-skiing. Located in the heart of the Chugach Mountains, Valdez is known for its epic powder and captivating descents. Here you make your way through steep couloirs, wide-open bowls and fantastic glacial terrain.
Valdez is known for its steep and challenging runs, making it a favourite among advanced skiers and snowboarders. The breathtaking scenery of Last Frontier adds an extra layer of awe-inspiring beauty to your adventure.
3. Wanaka, New Zealand
For those looking to experience heli-skiing in the southern hemisphere, Wanaka on New Zealand's South Island offers a unique opportunity. With its dramatic alpine scenery and reliable snow conditions, this region, which includes the ski resorts of
Cardrona
and
Treble Cone
, provides an unforgettable heli-skiing experience.
Wanaka's heli-ski operators access the vast terrain of Wanaka, where you'll have the chance to make your way through open bowls, chutes and pristine slopes. The combination of exceptional skiing and stunning views of the New Zealand wilderness creates a memorable adventure.
4. Verbier, Switzerland
While Europe may not be synonymous with heli-skiing like North America,
Verbier
in Switzerland has emerged as a premier destination for this exhilarating experience. In the middle of the Swiss Alps, Verbier offers access to pristine powder and vast alpine terrain.
From the top of Mont Fort and Rosablanche, heli-skiers can descend to breathtaking runs and powder-filled corridors. The Swiss Alps' unique combination of challenging terrain and alpine charm makes Verbier a preeminent heli-skiing destination in Europe.
5. Himalayas, India
Imagine heli-skiing among the high peaks of the Himalayas, with views of some of the world's tallest mountains. Heli-skiing in the Himalayas of India, located in the northern state of Himachal Pradesh, is unlike any other.
Skiers can expect descents on wide-open slopes with panoramic views of the Himalayan range, including peaks like Hanuman Tibba and Deo Tibba. The combination of culture, adventure and impressive scenery makes heli-skiing in the Himalayas a unique and unforgettable experience.
6. Greenland
Heli-skiing in Greenland is the epitome of adventure. Amidst vast arctic landscapes, untouched powder slopes and dramatic fjords, skiers carve their way through untouched wilderness. Greenland's remote terrain offers a surreal experience, where helicopters transport skiers to stunning peaks, and every descent is a journey into the heart of Arctic beauty.
It's a rare opportunity to explore some of the planet's most pristine snowscapes, making Greenland a bucket list destination for heli-skiing enthusiasts seeking the ultimate arctic adventure.
7. Courmayeur, Italy
Our second destination in the Alps with fantastic heli-skiing is
Courmayeur
in the Italian Alps. Nestled in the majestic Mont Blanc massif, skiers are whisked away by helicopter to access exclusive high-altitude terrain. From challenging corridors to wide-open powder fields, Courmayeur's heli-skiing offerings are as varied as they are breathtaking.
The stunning backdrop of the Italian Alps and the Mont Blanc range adds to the allure of this experience. It's a blend of Italian charm and alpine beauty, making Courmayeur a sought-after destination for those seeking adrenaline-pumping runs in one of Europe's most picturesque settings.
8. Queenstown, New Zealand
Queenstown, often referred to as the "adventure capital of the world", also offers fantastic heli-skiing opportunities. Located on New Zealand's South Island, Queenstown lets you make your way through wide-open powder fields and challenging alpine terrain.
The proximity to Queenstown's bustling city centre means you can easily combine your heli-skiing adventure with a range of other activities, from bungee jumping to exploring Fiordland National Park.
9. Gulmarg, India
Gulmarg
, located in the Indian state of Jammu and Kashmir, has gained recognition as a heli-skiing destination in recent years. This Himalayan town offers access to incredible terrain with deep powder and challenging descents.
Skiers and snowboarders can enjoy the thrill of heli-skiing in the Pir Panjal range, which provides a stunning backdrop of snow-capped peaks and vast forests. The unique cultural experiences of this part of India add an extra layer of richness to your heli-skiing adventure.
Finally
Heli-skiing allows you to explore some of the most remote and breathtaking mountain terrain on the planet. From the rugged peaks of Alaska to the pristine powder of the Himalayas, these destinations offer thrilling runs and unforgettable experiences for adventurous skiers and snowboarders.
Whether you're an expert looking for steep challenging runs or a beginner looking to take your first powder turns, heli-ski destinations around the world have something to offer every winter enthusiast. So, if you're ready to take your skiing or snowboarding to the next level and explore unknown slopes, consider a heli-skiing adventure at one of these incredible locations.