Book a budget-friendly ski holiday in the European Alps
The European Alps, with their snow-capped peaks and charming alpine villages, are a dream destination for skiers and snowboarders. While the thought of a ski holiday in this iconic region may sound expensive, it's entirely possible to plan a budget-friendly trip without sacrificing the thrill of the slopes or the joy of mountain views. Here we advise on different strategies for booking an affordable ski holiday in the European Alps.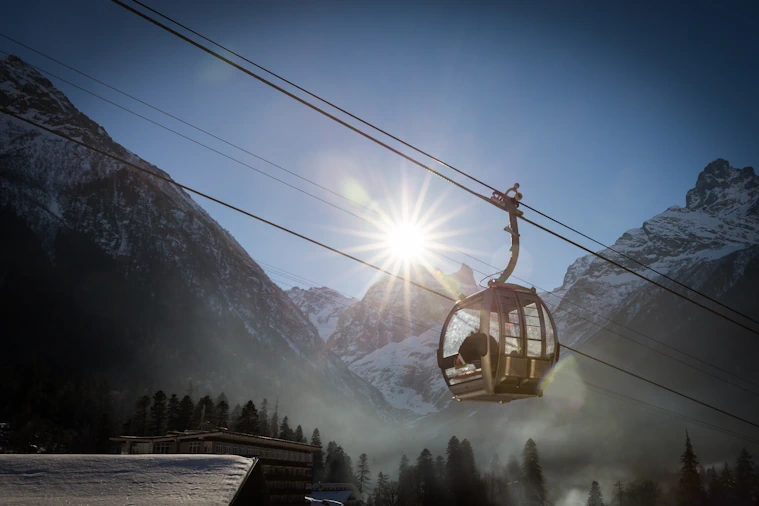 1. Choose low season dates
One of the most effective ways to save money on a skiing holiday in the Alps is to visit the Alps in the low season. High season usually includes the weeks around Christmas and New Year, as well as the school holidays in February and the weeks around Easter, if Easter comes relatively early in the year. By planning your trip during other periods than this, you can take advantage of lower prices for accommodation, transport and lift tickets.
2. Book arrival during the weekend
Most people who go on a long weekend to the Alps choose to leave on Wednesday or Thursday and return home on Sunday. For many accommodations, Friday and Saturday are the most expensive nights, often twice as expensive as a "normal" night. By instead booking a ski weekend with arrival on Saturday and return home on Wednesday, you score the nights that are often the cheapest, i.e., Sunday, Monday and Tuesday night. And it is still the same number of days off from work!
3. Consider lesser-known ski resorts
While famous resorts such as
Verbier
and
St. Anton
offers world-class skiing, they often come with higher price tags due to their popularity. Consider exploring lesser-known resorts that offer excellent slopes at more affordable prices. Examples are
Andermatt in Switzerland
or
Bormio in Italy
, where you can enjoy the Alps without the huge crowds and costs that are (slightly) lower than the major destinations.
4. Group discounts
If you're traveling with friends or family, look for group discounts on accommodation, lift passes, and equipment hire. Many resorts offer special rates for larger groups, so be sure to ask before booking.
5. Early bird specials
Look out for early booking offers and promotions offered by both ski resorts and tour operators. Booking your ski holiday well in advance can result in significant savings. Also, the number of available hotel rooms are much higher, giving you the chance to choose the best hotels with decent prices before others. Some resorts also offer discounts for booking lift passes and ski lessons online before your arrival.
6. All-inclusive packages and meals
Consider booking all-inclusive packages that include accommodation, lift passes, food and sometimes even ski hire and even ski lessons. These packages can offer significant savings compared to booking each component separately. Also look out for accommodations where breakfast, half board or full board are included. Even if the trip becomes more expensive when booking, you can save a lot of money on food if the offers are beneficial.
7. Live in self-catering accommodation
Choosing self-catering accommodation such as apartments or cottages can be a cost-effective choice. You will have the flexibility to prepare your meals yourself whenever you want, and it also significantly reduces your food costs. In addition, you can enjoy the cozy atmosphere of a mountain cabin without paying the luxury price tag.
8. Use public transport
Instead of renting a car, use public transport to reach your ski destination. Many alpine resorts have good connections by train and bus. Especially in Switzerland, many ski resorts have their own train station, or there is a train station within a short distance of the ski resort. This not only saves rental and fuel costs, but also minimizes the environmental impact of your trip.
9. Take advantage of youth and student discounts
If you're a student or young traveller, be sure to ask and explore more about youth and student discounts on lift passes, accommodation, and activities. Many resorts offer reduced prices for young travellers.
10. Consider half-day or afternoon lift tickets
If you don't plan to ski all day, choose a lift pass that is only valid for half a day or in the afternoon. Although the difference with an all-day pass is normally not that great, they are still usually cheaper. It also gives you time to sleep in and maybe do some other activities than skiing during the morning. It also gives you the opportunity to do a very late breakfast which means that you can skip lunch, or at least have a very light one, instead of an expensive lunch in a restaurant in the slopes which are usually very expensive.
11. Pack your own lunch
Ski resort restaurants can be expensive. Instead, consider packing lunch and snacks to enjoy on the slopes. Most resorts have designated picnic areas where you can enjoy packed food.
12. Tips for renting equipment
When renting gear, look for the best deals and start by looking online before you go. As a rule, it is cheaper to book your ski equipment online in advance.
13. Ski schools and ski lessons
If you're a beginner or feel like you simply want to learn how to become a better skier or snowboarder, it's usually a good idea to invest in ski lessons. As with ski equipment, there are usually better prices when you pre-book online. Compare prices and book group lessons, which are usually more cost-effective than private lessons.
14. Travel insurance
You might have a travel insurance included in your home insurance or possibly your credit card if you pay for your ski holiday with it. However, these usually do not include injuries in connection with skiing. Although it is an additional cost, having insurance that covers skiing can save you money if an accident occurs.
15. Pack wisely and buy what you need in advance
Make sure you have all the necessary equipment before you head to the Alps to avoid last-minute purchases or rentals. The shops found in the ski resort can be significantly more expensive than buying equipment and clothing at home.
16. Local eateries and après ski
Eating out can be expensive in resort areas, so look for local eateries and smaller après-ski spots for more budget-friendly options. Trying regional cuisine in these places can also provide a unique cultural experience. Visiting a neighbouring village to find cheaper restaurants is also an option, which also gives you an opportunity to see more of the area.
In conclusion, it is entirely possible to book a budget-friendly ski holiday to the European Alps with careful planning and a bit of flexibility. By following our tips above, the final bill for your skiing holiday can become considerably lower.