Hotel & accommodation in Gautefall
Below you will find 1 hotels, apartments and chalets/houses in Gautefall. Hotels are sorted by lowest price.
If you know when you want to travel to Gautefall you can specify the dates here and search directly for available acccommodations.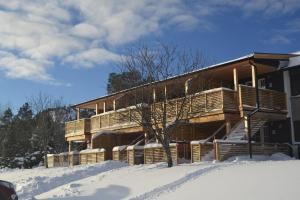 Distance to ski resort about 100 meter
Number of persons: 4-13 (6 different room types)
(prices from, per night)
LOCAL CURRENCY 850 NOK
Ski Lodge Gautefall ligger i Gautefall och erbjuder boende med uteplats eller balkong, gratis WiFi och TV. Här finns även en bar och möjlighet att åka skidor ända fram till dörren. I köket finns diskmaskin, kylskåp, ugn och vattenkokare. Lägenheten har en grill. Efter en dag med vandrin...
Notice that prices could be converted from local currency and could vary with prices displayed on the hotel supplier web site. The accommodations above are sorted in price order.